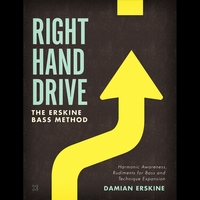 My newest book , "Right Hand Drive" is finally complete and available via CDBaby!
It is a book focusing on technique expansion and harmonic awareness including tons of examples, transcriptions, licks and grooves.
You'll also get an MP3 CD with over 100 audio examples of everything in the book at multiple tempos.
This book is intended for anyone wishing to push themselves rhythmically, develop there right hand technique and expand their abilities when it comes to walking and soloing.  Complete with chord shapes, charts explaining what scales work over what chord types, tons of rhythmic exercises, tons of grooves from my newest CD, "So To Speak" and licks…  This book is, in essence, my complete methodology for playing my bass.
Enjoy!!
Where to buy the book
Right Hand Drive
© 2011 notneK Music